Selling Your Gold to Alliance Coin & Banknote
For the very best in pricing on all forms of gold jewellery, gold coins, gold bars and gold medals in the National Capital Region Contact us today. Scroll down for a video overview.
Hello, my name is Sean Isaacs, founder of Alliance Coin & Banknote
I'm proud to be marking my 30th anniversary in the coin business and have put together this short video in an attempt to help demystify the process of selling us your scrap gold.
What We Buy
Jewellery
Gold & Silver of any fineness, broken or intact, including:

Coins
Gold & Silver, both Canadian and world-wide, in any condition, including pure bullion coins.

Old Sterling
Sterling Silver flatware
Tea services
Trophies
Dresser sets
Other sterling silver items

Bars & Medallions
Gold & Silver investment bars of all sizes, one gram through 100 ounces
Gold & Silver Medallions of any kind
Franklin Mint Sterling Silver collectors bars and medals, etc.

Ensure that you get the best price!
Don't lose out by dealing with anyone other than the experts at Alliance Coin & Banknote. Contact us today.
Gold Dealer Ottawa - How it Works

Alliance Coin & Banknote purchases all gold jewellery, coins, bars and medals at the highest prices in the National Capital Region.
Owner Sean Isaacs offers 30 years of unmatched expertise in the coin and precious-metal business. Immediate payment is made based on accurate, "no-guessing" pricing policies.
Please don't give your business to the traveling road-shows or other "recyclers" before asking for our industry-leading offer.
How can we be so confident in making this commitment to our customers?
Three key reasons you should deal with Alliance
1. Our business is headquartered in a small historic town where our overhead is half that of our bigger-city competitors. Quite simply, it costs us less to operate, allowing us to pay you more.
2. We are content to work on smaller margins than the industry average. Gold and Silver are extremely liquidable, and we have corporate accounts with most major refiners in Canada. It only makes sense to us to pay superior prices, as the holding risk on our purchases is very low.
3. Perhaps most importantly of all, our independent research proves we lead the market in the region both for pricing and service. Quite simply, none of our competitors can offer the deep knowledge and expertise that we possess.
Secret Shopper proves Alliance offers the best prices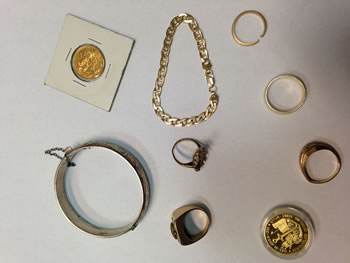 We recently hired a "secret shopper" team to visit all six of the top advertising gold buyers in Ottawa, and to present an identical collection of assorted gold jewellery and coins for their offer.
The results were both predictable and startling: not only were our standard counter prices superior to all six competitors, the most aggressive advertising "recycler" in Ottawa and throughout the province offered an appalling half of what we would have paid for the items!
Exhibiting a clear lack of product knowledge on even the most common of Canadian gold coins, these dealers simply "guessed" at the values, exposing their customer to significant financial loss.
Ensure that you get the best price!
Don't lose out by dealing with anyone other than the experts at Alliance Coin & Banknote. Contact us today.