Where We've Sold
Did You Know?
Always Reliable
Since 2003, we have shipped 10,000 packages around the world, and only lost 4 (one of which was lost in an overnight heist at a Northern Ontario Post Office!).
Not a Tall Tale
We once had the pleasure of shipping a set of coins to the World's Tallest Woman!
Our Reach in Asia
We've sold coins from Istanbul to Sapporo-City and points in between!
United States
We have customers in all 50 states, Alabama to Wyoming, and have also shipped to Armed Forces personal in the Pacific and Abroad.
Where in the World...
To get a feel for the breadth of our business, scroll down for a list of locations.
At Alliance Coin, We Ship the World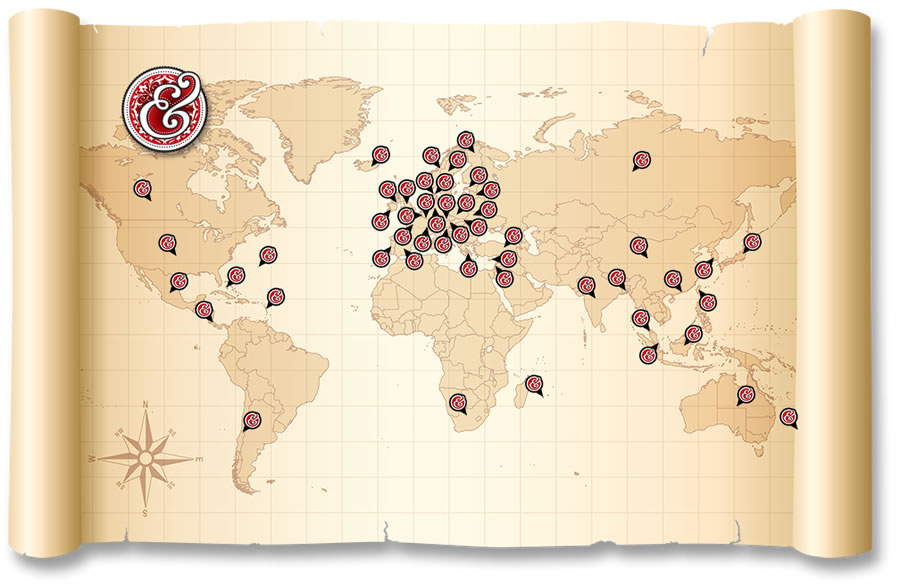 Africa
French Reunion
South Africa
Hatfield
Reservoir Hills
Asia
Bangladesh
Khulna
China
Beijing
Jiangsu
Shanghai
Suzhou
Tianjin
Cyprus
Nicosia
Hong Kong
Bamboo Mansion
East Kowloon
Taikooshing
Tuen Mon
Whampoa Garden
India
Ahmedabad
Karnataka
New Delhi
Indonesia
Bandung
Surabaya
Israel
Ashdod
Ganei Tikva
Herzelia
Iod
Rishon le-Zion
Japan
Iwate
Kanagawa
Saitama
Sapporo-City
Tokyo
Toyota
Malaysia
Selangor
Russia
Moscow
Saint Petersburg
Singapore
South Korea
Changwon
Kwang Ju
Seoul
Taiwan
Chang-Hua
Kaohsiung City
Taipei
Turkey
Ankara
Balikesir
Bursa
Istanbul
Oceania
Australia
Acton, Bayonet Head, Boggabri, Bonython, Brisbane, Burleigh, Canberra, Charnwood, Cherrybrook, Cooktown, Collie, Eaton, Fullerton, Galston, Glen Osmond, Highett, Karawara, Lilydale, Lockington, Lonsdale, Marsfield, Mawson Lakes, Melbourne, MT Lawley, North Nowra, Parkville, Patterson Lakes, Perth, Port Macquarie, Revesby North, Rowville, Sassafras, Sydney, St. Helens Park, Weelers Hill, West Hobart
New Zealand
Auckland
Christchurch
Gisborne
Laingholm
Takaka
Wellington
Europe
Austria
Bruck, Hoersching, Mistelbach, Schlierbach, Vienna, Wels
Belgium
Aalst, Begijnendijk, Beveren, Brecht, Brussels, Bullingen, Deurne, Gent, Gooik, Flemish Brabant, Heist Op Den Berg, Liege, Limal, Mariakerke, Sint-Andries, Sint-Pieters-Leeuw, Snellegem, Tongeren, Waremme, Wemmel
Czech Republic
Prague
Denmark
Birkeroed, Copenhagen, Grenaa, Herning, Skovvejen, Viborg
Estonia
Tartu
Finland
Kuopio, Lappeenranta, Tampere
France
Argenteuil, Bailleul-sire-Berthoult, Bangor, Blagnac, Bois Guillaume, Boulogne Haute, Bray Sur Seine, Brion pres Thouet, Cambrai, Champagne, Chateauneuf, Cordemais, Coubron, Creteil, Espalion Frambouhans, Glère, Gravenchon, Hudimesnil, Lampertheim, La Rochette, Martigues, Montpellier, Nanterre, Nice, Paris, Perpignan, Reims, Saint Brieuc, Strasbourg, Troyes, Val d'Ornain, Vineuil, Vitry-sur-Seine, Volx
Germany
Berlin, Boeblinglen, Boenningstedt, Bremerhaven, Burg, Castrop-Rauxel, Didderse, Dormagen, Dorsten, Ebersbach an der Fils, Ericsson Allee, Erlangen, Essen, Freiburg, Fritzlar, Fulda, Furtwangen, Gera, Gerlingen, Großröhrsdorf, Halle, Hamburg, Hameln, Hamm, Hannover, Herzogenaurach, Hofheim, Karben, Karlskron, Kassel, Kefenrod, Korschenbroich, Lage, Leezdorf, Loose, Meinerzhagen, Miesbach, Neusaess, Niedertanfkirchen, Petersburg, Schonach, Senftenberg, Stadtroda, Stein, Ulm, Urbach, Witten, Zschopau
Greece
Athens, Heraklion (Crete), Koridallos, Leptokarya, Pefki, Pylea, Thessaloniki, Volos
Hungary
Budapest
Papa
Veszprém
Iceland
Reykjavik
Ireland
Ballinhassig (Cork), Ballymerrigan (Wicklow), Coolgreany (Wexford), Dublin, Holly (Wicklow), Killorglin (Kerry)
Northern Ireland
Ballymena, County Antrim
Italy
Aprilia, Arezzo, Belluno, Benevento, Bergamo (Lombardy), Carrara, Castelnuovo Rangone (Modena), Cirie, Turin, Civitavecchia, Collebeato (Lombardia), Ferrara, Firenze, Merano, Milan, Modena Montefegatesi, Paternopoli (Avelleno), Rapallo (Genoa), Rome, Siena, Triesete, Turate (Como)
Latvia
Riga
Lithuania
Siauliai
Luxembourg
Esch-sur-Alzette
Gasperich
Malta
Mosta
Netherlands
Alphen aan den Rijn (South Holland), Berkel-Enschot (North Brabant), Budel (North Brabant), Capelle aan den IJssel, Culemborg (Gelderland), Den Helder (North Holland), Emmen (Drenthe), Haarlem (Holland), Wijchen (Gelderland), Goes (Zeeland), Groesbeek (Gelderland), Haarlem (North Holland), Haelen (Limburg), Heelweg (Gelderland), Hellevoetsluis (South Holland), Hengelo (Overijssel), IJsselstein (Utrecht), Leiden, Rotterdam, Schiedam (South Holland), Smilde (Drenthe), Tiel (Gelderland), Uden (North Brabant), Utrecht, Vriezenveen, Overijssel Woerden (Utrecht), Yerseke (Holland), Zoetermeer (South Holland)
Norway
Aas, Brumunddal, Elverum, Haugesund, Kristiansand, Oslo, Rykkinn, Stavanger
Poland
Grabow, Krasnik, Poznan, Sekowa, Tarnów, Warsaw
Portugal
Aveiro, Barreiro, Faro, Lisbon, Meadela, Oeiras, Porto, Sao Pedro Estoril
Russia
Moscow
Slovenia
Ljubljana
Spain
Barcelona, La Canada, Madrid, San Pedro Del Pinatar, Torremolinos, Valencia, Zaragoza
Sweden
Flisby, Lund, Oskarshamn, Torslanda, Tyresö
Switzerland
Bottmingen, Bruegg
Ukraine
Kirovohrad, Pisochin
United Kingdom
Aberdare (Rhondda Cynon Taff), Antrim, Baguley, Benfleet, Berkshire, Billericay, Bingley, Blunham, Bridgend, Bristol, Cambridge, Colchester, Coylton (South Ayrshire), Crawley, Darwen, Derby, Derbyshire, Dulverton, Dunfermline, Edinburgh (Scotland), East Kilbride, Farnborough, Frome, Glasgow, Glenrothes, Gloucester, Hackney, Halesowen (West Midlands), Halifax, Harlow, Hayes, Haywards Heath, Helensburgh, Hengoed, Hertfordshire, Horsham (West Sussex), Inverness, Lancashire, Leatherhead, Liverpool, Livingston, London, Lower Sydenham, Macduff, Markethill, Mawdesley, Mid Glamorgan, Mordon, Newton, Norfolk, Northolt, Norwich, Nr Sandbach (Cheshire), Penylan (Cardiff) Renfrew, Rodborough Common, Romford (Essex), Rotherham, Royston, Seaford, St. Ives, Tadworth (Surrey), Southport, Taunton, Uckfield, Unsworth, Walton, Waterlooville, Waverton, West Derby, Westhill, West Midlands, Wilmslow, Wokingham
North America
Bahamas
Bermuda
Canada
Below is a small sampling of the places across Canada where we've sold our coins.
Alberta:
Bonnyville, Calgary, Cochrane, Drayton Valley, Edmonton, Fort McMurray, Lundbreck, Rainbow Lake, Stony Plain, Wainwright
British Columbia:
Burnaby, Chilliwack, Coquitlam, Fort St. John, Merritt, Rossland, Sechelt, Surrey, Vancouver, Victoria
Manitoba:
Brandon, Dugald, Hamiota, Lynn Lake, Miniota, Oakbank, Oakland, Swan River, Virden, Winnipeg
New Brunswick:
Bathurst, Caraquet, Divide, Hanwell, Lutes Mountain, Miramichi, Moncton, Portage la Prairie, Pte. Alexandre, Saint John
Newfoundland & Labrador:
Clarenville, Conception Bay South, Cornerbrook, Deer Lake, Goulds, Mt. Pearl, Mount Royal, St. John's
North West Territories:
Hay River, Inuvik, Yellowknife
Nova Scotia:
Antigonish, Bedford, Bridgewater, Dartmouth, Halifax, Hubley, Inverness, Porters Lake, Rose Bay, Sydney
Nunavut:
Iqaluit
Ontario:
Dryden, Goderich, Iroquois, Kars, Ottawa, Perth, Sarnia, Thunder Bay, Toronto, Woodlawn
Prince Edward Island:
Belfast, Charlottetown, Kensington
Quebec:
Charlesbourg, Chateauguay, Kirkland, Granby, Mille-Isles, Montreal, Pierrefonds, Pincourt, Saint-Colomban, Trois-Rivieres
Saskatchewan:
Alvena, Kamsack, Leroy, Lloydminister, Maidstone, Meadow Lake, Regina, Saskatoon, Swift Current, Weyburn
Guadeloupe
Baie-Mahault
Mexico
Puebla
United States
We have customers in all 50 states, Alabama to Wyoming, and have also shipped to Armed Forces personal in the Pacific and Abroad.
South America
Chile
Santiago
Costa Rica
Heredia